Recently, we returned from sponsoring Mind the Product 2018 in San Francisco! This was a big moment for us at Extend, as it was our first dedicated booth at a tradeshow. It was a wonderful experience and greatly benefitted our team. Not only did we have a great experience at the event, but on the road to it, we really grew as a team and as a product.
Special thanks to the entire Extend team, folks from Auth0 who guided and supported us, and to James Mayes and Analisa Plehn from Mind the Product who really went the extra mile.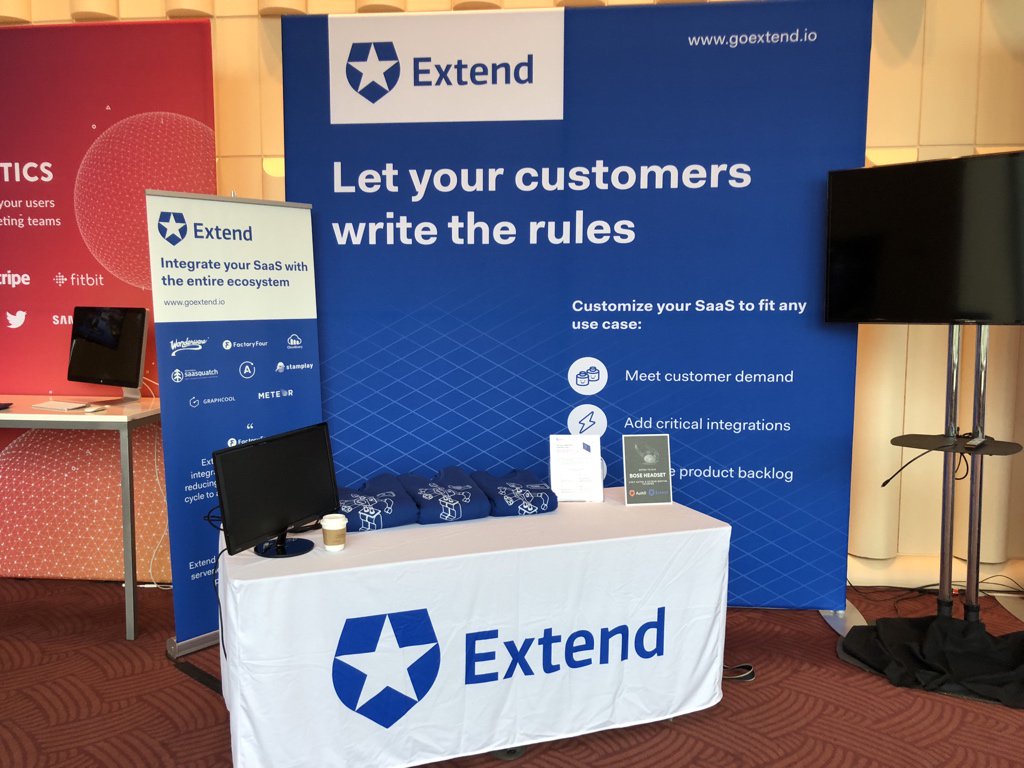 Why #mtpcon
Mind the Product has one of the largest, most vibrant online communities of product managers. When you join the MTP Slack (as I did about 18 months ago), you'll find a diverse set of product folks from junior PMs all the way to CPOs trying to help one another be better at their craft. Beyond the Slack, there are local ProductTank meetups which happen all over the world. These are great local events, which I've seen first-hand as a co-organizer of ProductTank Bellevue. If you are in product, or interested in product, this community is a great place to connect with like-minded individuals to share and learn from one another.
The Mind the Product event brings together this community in a single place, along with a top-notch set of industry experts, for a day focused on practical advice on how to build better products.
Sponsoring to test our messaging and branding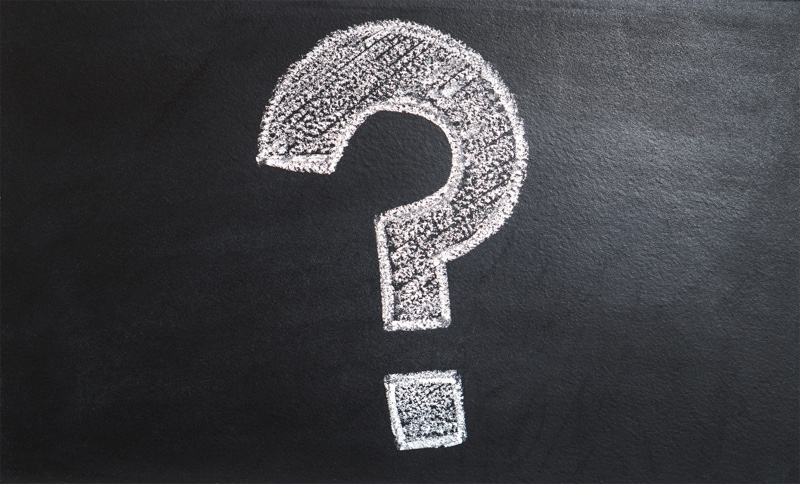 As a sponsor, we'd get a booth where we could see if our message attracted people and where we could potentially have the largest number of conversations. We're a startup within a larger organization (Auth0) building a new kind of product that we believe helps product managers do their jobs. One of the things that became very apparent as we talked to more and more customers and prospects over the past year was that our messaging and branding were confusing. There was confusion over how we related to Auth0's main identity product. "Are you just an extension of the product?" There was confusion over what we actually were and the value we provided. We had good reason to believe this was driving people away. We knew we had to clean up our story.
Assuming we could, then we felt #mtpcon would be the perfect place to test out the new messaging and branding. What better place to talk to product managers, our main target audience, to see if our changes are resonating? It seemed like the right thing to do.
After a lot of back and forth discussion, and weighing of risks, pros and cons, we decided to just go for it. It WAS a lot of work, which involved a huge rebrand (something to talk about in a future post) as part of the journey. Ultimately though we made it!
OKRs
This wouldn't be a product management related post without some OKRs :-). To gauge our success, we came up with the following:
Objective: Validate that our new message is landing with product managers
Key Result: Generate 75+ leads
Objective: Cover the cost of the event
Key Result: Close 40K ARR worth of deals
MTP T-Minus 1 day and counting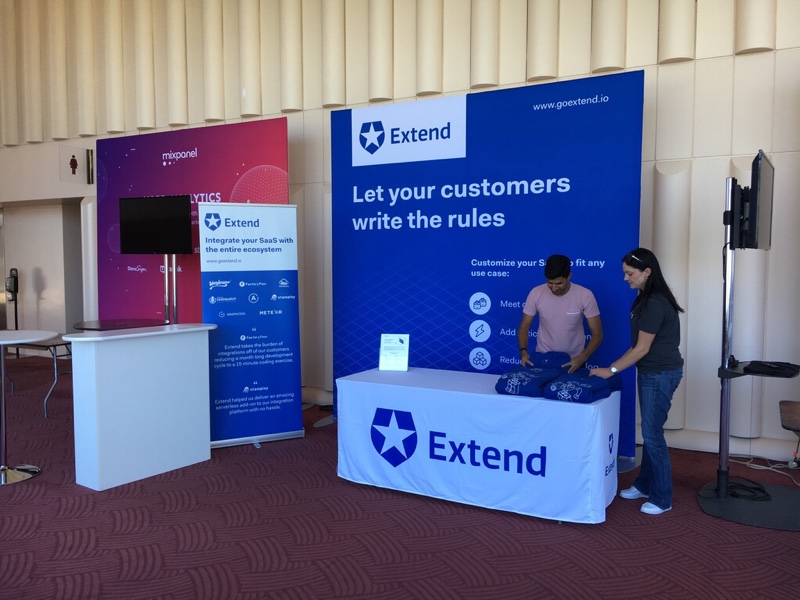 After many months of work, suddenly the event was just one day away! We flew in (8 of us in full force), t-shirts in hand, to get everything ready. We showed up at the venue, and waited while the staff (who were very accommodating) assembled the booth, and then it was done. Seeing it in person, we were all thrilled to see how well the booth came out, and it made me want to cry.
Then, there was a moment of doubt (panic). "What happens if no one shows up? What will that mean?" "What if folks come, but the majority don't get the product or see the value it provides?"
We put that doubt behind us and a some of us went out and had a nice dinner.

Left to right: Me, Randy Nasson, Bobby Johnson, Yavor Georgiev, Ashwin Chak and Joe Brinkman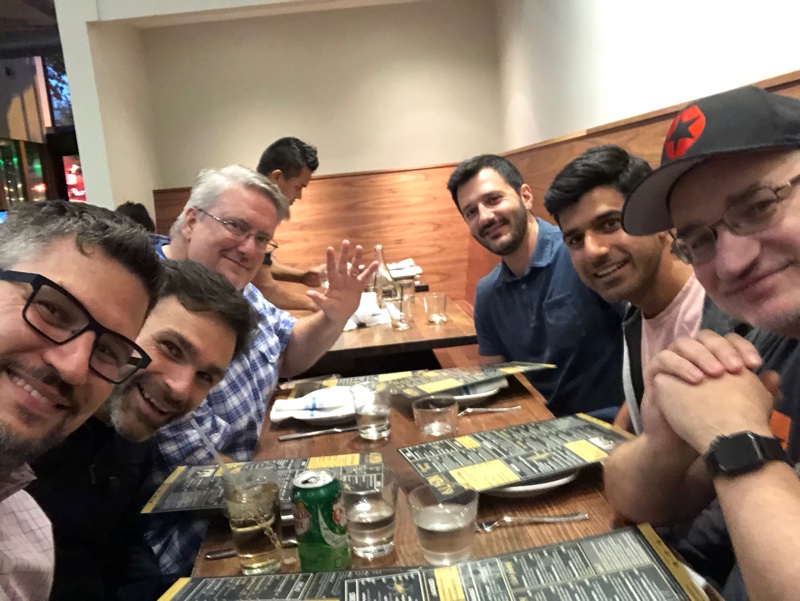 Launch
Left to right: Yavor Georgiev, Meagan Gleason, Cory Axelson, and Joe Brinkman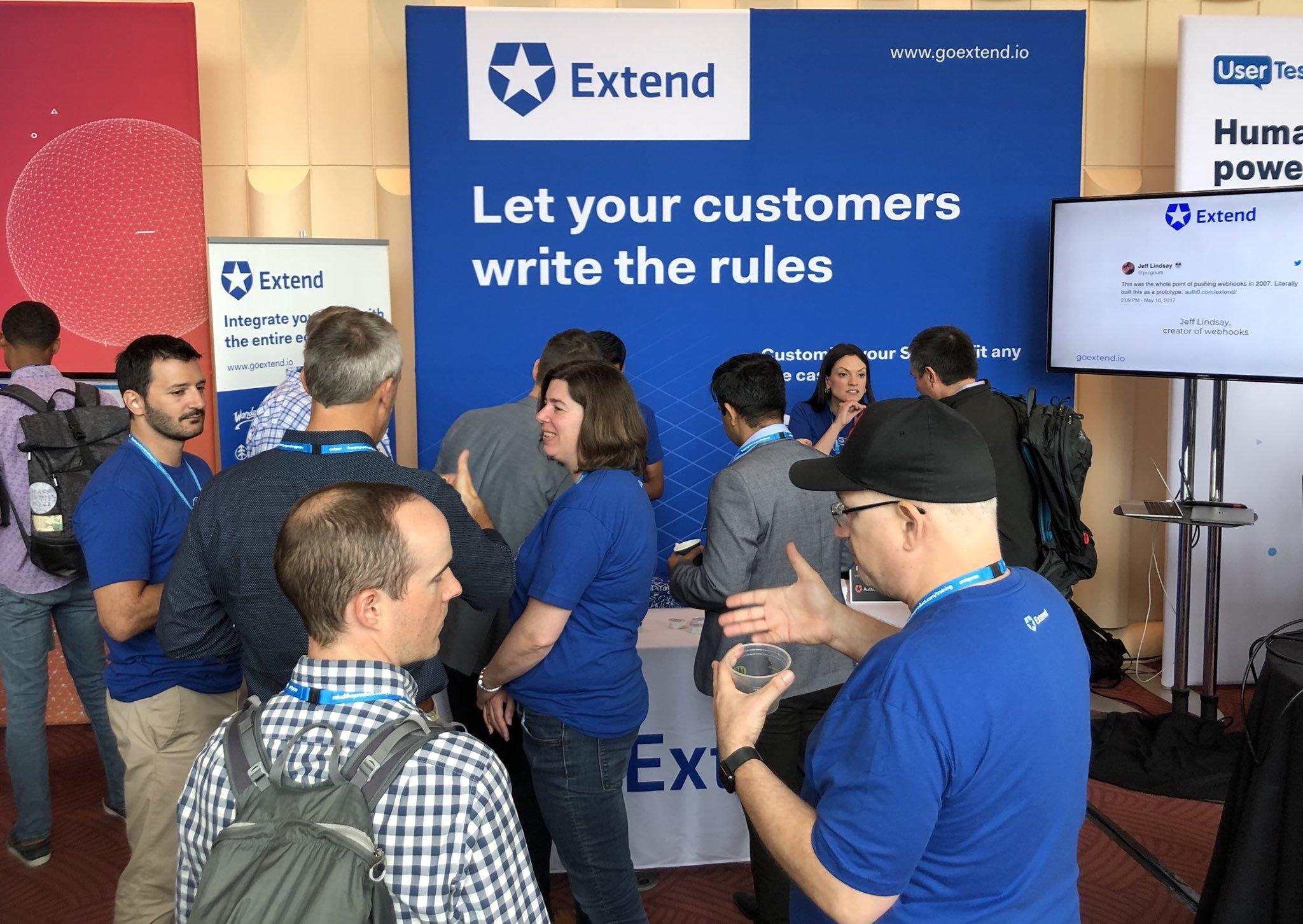 Event day! The booth opened, and the event started. We had a few people come over, while the first set of talks were going on. Then the first break came, and we got mobbed. People wanted our t-shirts (which I dare say were the coolest), but many of them also wanted to talk to us about Extend. We had product manager after product manager wanting to know what we were and how we could help. We continued to get great traffic throughout the rest of the day. As we're a very new product, the best part was being able to have so many conversations. It really gave us a chance to try out our different pitches, see what was sticking, and see if we got a deer-in-the-headlights response.
Here were some of our learnings throughout the day:
No one was confused by our parent brand, and I mean no one. Not a single person asked us how we related to our company's main product. As I mentioned earlier this used to be a big problem.
We shouldn't focus all our attention on our existing Auth0 Identity customer base. This relates to the first bullet. Most of the folks who came to our booth did not know about our parent brand, and they got what our product was about.
Our message "Let your customers write the rules" was intriguing. This piqued curiosity of the folks that talked to us and they wanted to know more.
Custom integrations are hard. B2B SaaS companies are paying a heavy price when they try to close deals that support the needs of their bigger customers. Many of the off-the-shelf tools that SaaS companies may use often don't meet their customers' unique needs.
Companies would love to reduce the time-to-market and effort for getting out new features. The idea of "field testing" features that could be developed in a lightweight manner is attractive.
The need to stand up servers and infrastructure is a barrier to customers who want to extend a B2B SaaS product. SaaS companies (including some really big ones) are looking to make this a lot easier.
Our product is not for everyone. Not a surprise, but a good reminder. You can't be all things to all people, and you don't want to be.
How did we do?
We got over 100+ leads, exceeding our goals by 25%. Of those, we had over 20 that we felt were in the warm to hot category.
TBD on our revenue goals, but if we close a fraction of the leads we captured, we'll hit those!
The party and the boat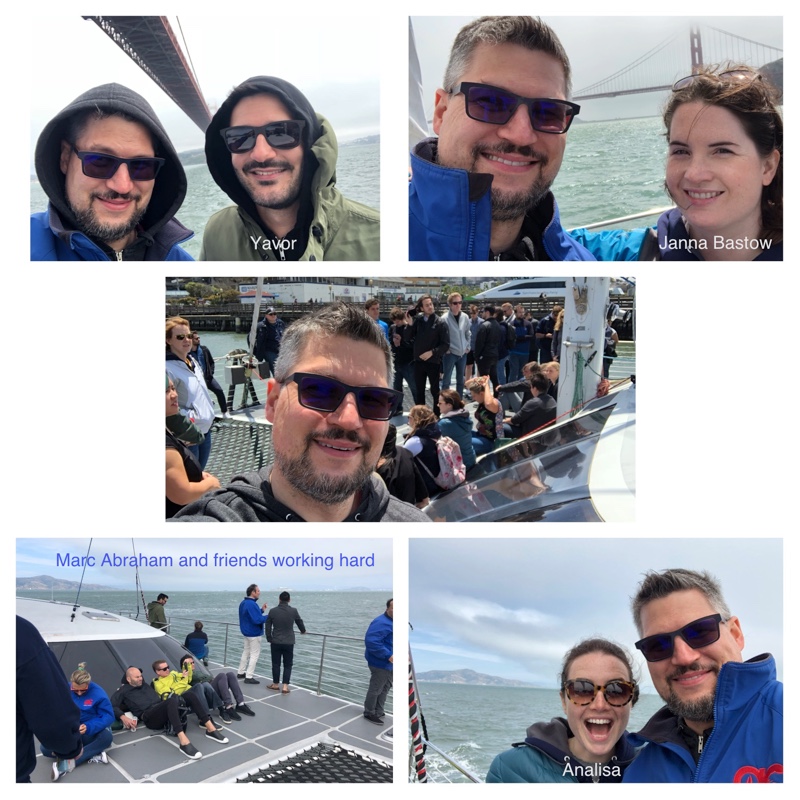 After the event, there was the party, which was held in a cool venue, and great as always. Yavor and I went and hung out for a few hours. We were fortunate to spend a while talking to the ProdPad founders, and sharing our experience with the product. We also chatted with several of the organizers, and with a bunch of attendees.
The creme-de-la-creme however was the boat ride! As sponsors we got invited to a beautiful 3 hour Catamaran ride around the San Francisco Bay, with fantastic views. On the boat were many of the speakers and other sponsors and this was a real treat, which gave us more time to also hang with the #mtpcon organizers. We also got the chance to speak to a bunch of really cool startups who were on the boat. For example, we spoke to the founders of Chargebee, a really cool service that makes it easier to handle subscription billing with your SaaS. And I also met a young man who was head of product for a startup that was creating cheap tablets with courseware loaded on them, and which can be sent to Africa to assist in education.
Sponsoring #mtpcon was well worth it and we'll likely do it again
Sponsoring the event gave us the "boots on the ground" experience we were hoping for, we got to see what messages were working, and which weren't. We learned where product managers were seeing the value. It was a great moment for all of us as we felt that the large effort we invested was paying off, we got the validation we were seeking, and we felt as if we had really grown to the next level as a business!
If you are building a SaaS business, especially one targetting product managers, and looking for a place to validate your message, I'd encourage you to consider #mtpcon either as a sponsor, or as an attendee. Even as an attendee you can do a lot of networking and practice your pitch, that being said I'd recommend the booth if you can pull it off.
A shout out to the organizers of #mtpcon for another phenomenal event!