TL;DR: This post covers my experience speaking at Midwest JS 2018. My presentation materials are available for anyone who would like: An Introduction to Webtask. All demos, slides and source code are included. Enjoy!
---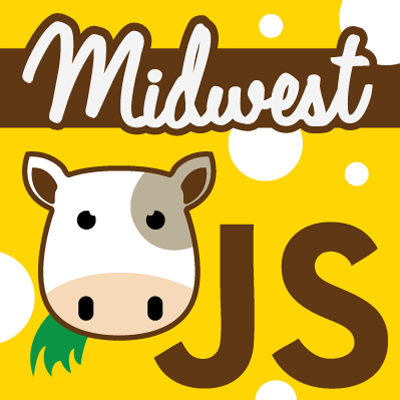 I had the pleasure of being invited to speak at Midwest JS 2018. It was a week of firsts for me: my first trip to Minnesota, my first visit to Minneapolis and my first time attending the event! I am looking forward to attending again next year. I delivered my talk "An Introduction to Webtask" early on Thursday, so I was able to relax and enjoy several great speakers as well as meet a lot of interesting people.
Minneapolis, what little I saw of it, was a charming city. Having never visited this part of the country, I didn't know what to expect. I knew that Prince's Paisley Park was nearby, but that was about it. For a person living in the Pacific Northwest, the city comes across as clean, flat and has a disturbing lack of evergreen trees.
The following are a brief write up of the talks that I attended and my impression and takeaways from each; presented in chronological order.
Randall Koutnik - Blenders, Boeing and Bad Software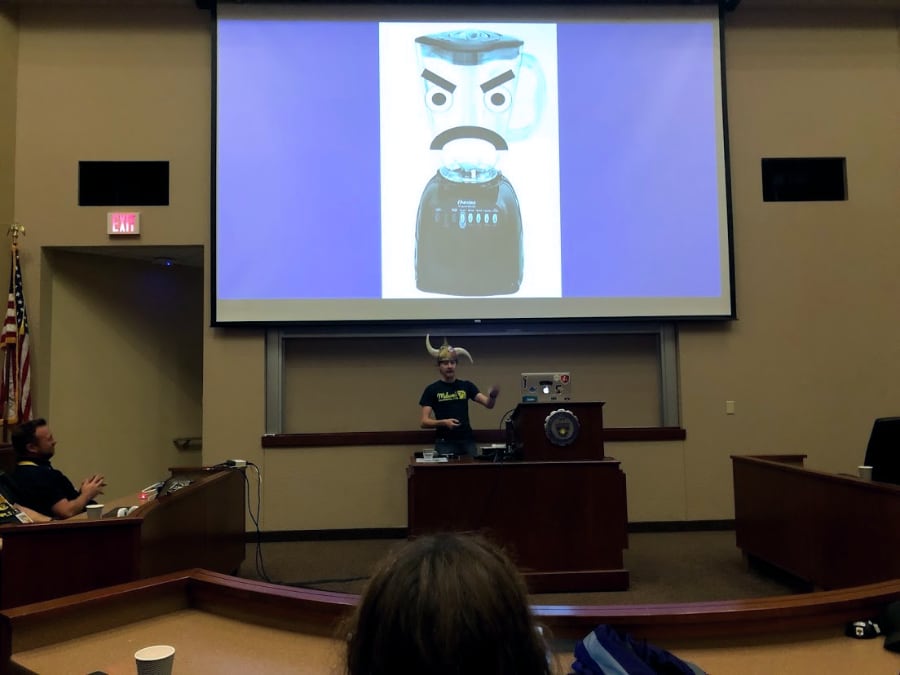 Randall Koutnik, an Internal Tools developer at Slack, kicked it off with a keynote presentation on design and lousy software titled "Blenders, Boeing, and Bad Software." The entire talk reminded me of a concept I first read about on Coding Horror, Falling Into The Pit of Success. Randall gave several examples of bad design, both in the real world and in software, where the product allowed a user to make a wrong choice and cause a problem. The most amusing example was the recent nuclear attack SMS message broadcast to all of Hawaii and how that could have been avoided with a little careful consideration and implementation.
This event was my first time seeing Randall speak and it was an excellent presentation. It is instrumental to remember software is for people to use. If you allow people to do something, eventually they will. Keep in mind that it is a part of the job to help the user fall into the pit of success.
Bobby Johnson - An Introduction to Webtask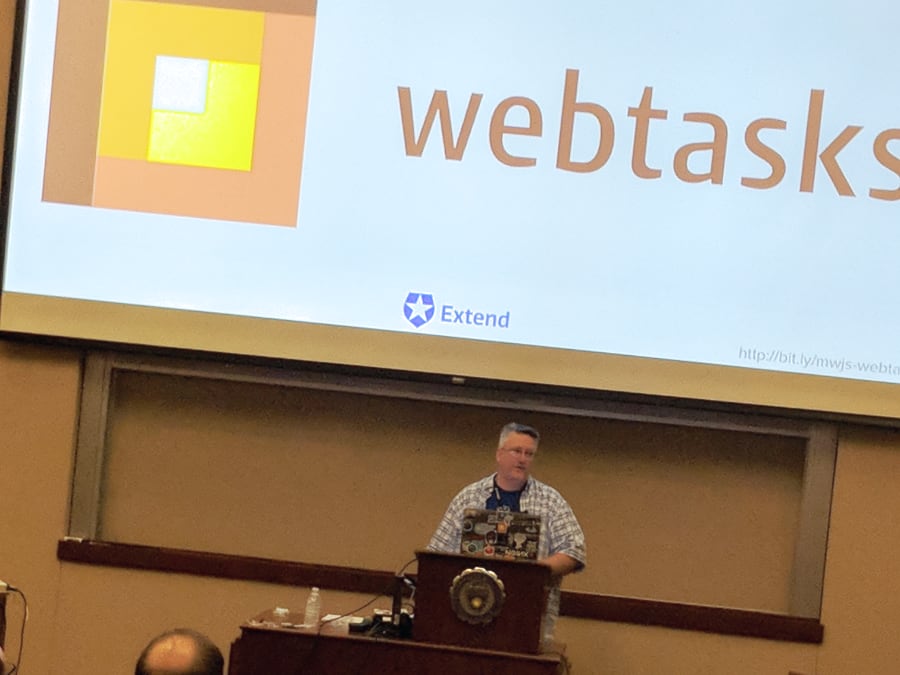 I covered the origin of the serverless platform at Auth0 long before the term "serverless" was a thing. I included how Webtask allowed the company to solve the extensibility problem faced by most SaaS products, how we moved to create a stand-alone sandbox Webtask.io, and finally direct that into Extend which allows other SaaS product to address the same extensibility concern in their systems.
Finally, I ran as many demos I could fit into my remaining time to show off the capabilities of the platform. The complete set of demos and my slides are available on GitHub.
Amy Gebhardt - A Practical Approach to the Component Library Challenge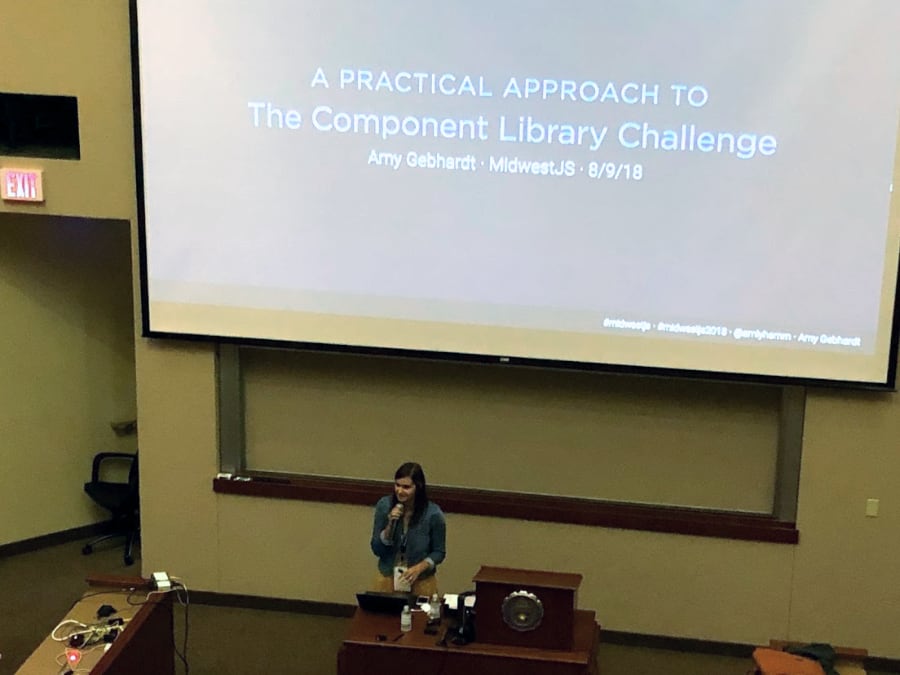 Amy Gebhardt, the Lead UI Engineer at Sports Engine, gave one of my favorite talks at the conference "A Practical Approach to the Component Library Challenge." The challenge she refers to is bringing order to a set of websites user experience elements that have grown over time in an organic way across many different platforms and frameworks.
Her talk covered the top 10 things to think through when implementing system-wide component library and rolling them out. She included things like versioning the library, change management and getting developers and designers to work together to agree on an approach.
The talk had some great insights on applying an engineering lense to solve a complex organizational issue. I left the presentation with the impression that I had just heard a DevOps for UX talk. I look forward to hearing from Amy at a future conference. I am sure I will learn something valuable.
Joel Lord - I Don't Care About Security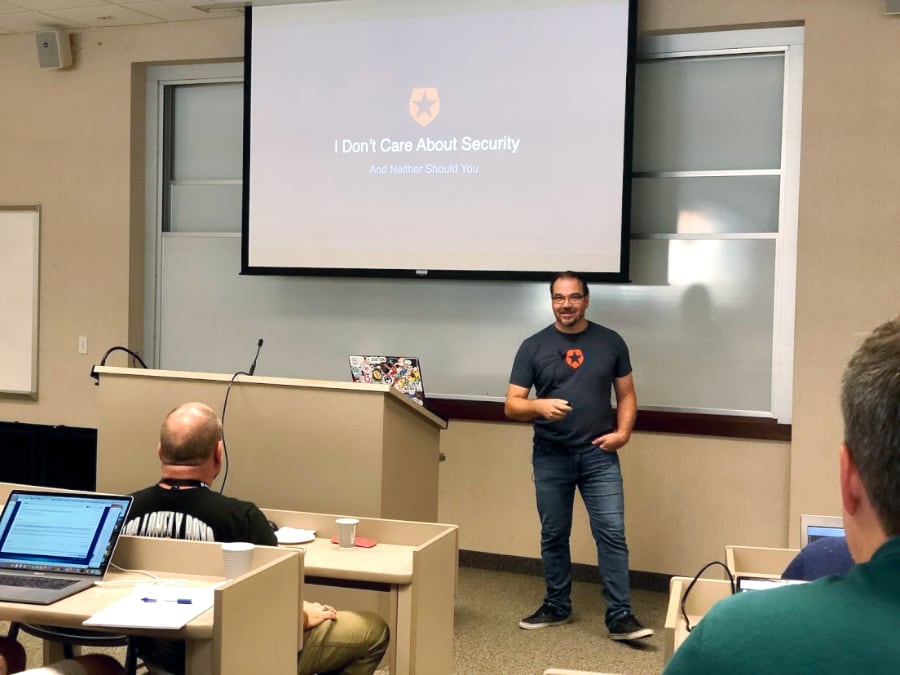 Auth0 represented well at Midwest JS; Joel Lord, one of our Developer Evangelists, gave two presentations. I attended "I Don't Care About Security (And Neither Should You)." The title is a cheeky poke at a serious topic.
Joel talked about the history of authorization and authentication in web applications traversing from hand-rolled login schemes that take weeks to implement, to standards like OpenID and OAuth, wrapping up with Identity as a Service providers like Auth0 who manage all that complexity for you. His demos were excellent, and you can find them here.
Zachary Klein - Shields Up! Security and React Apps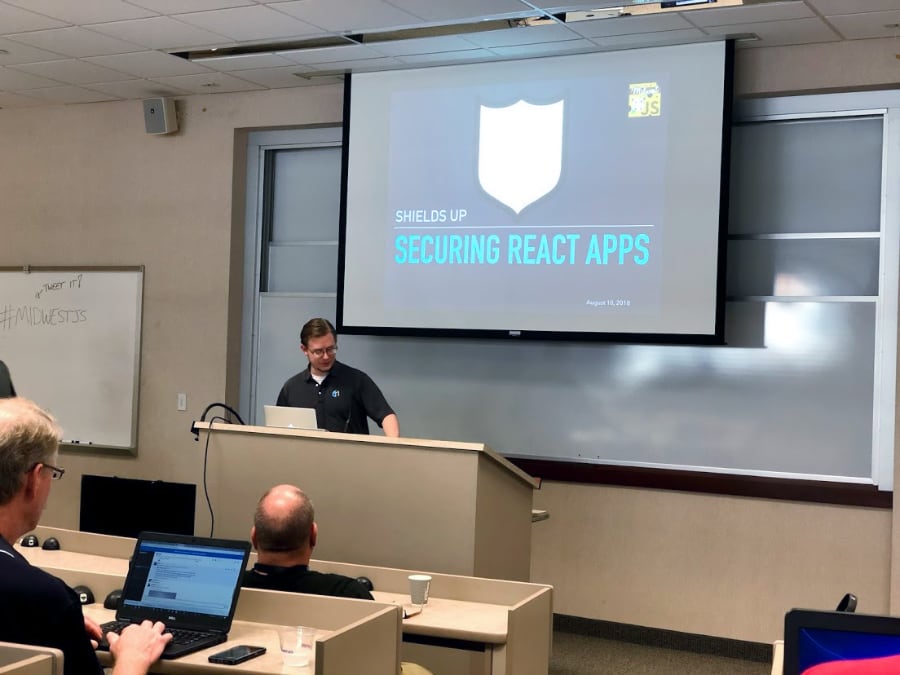 The Security track at Midwest JS was on fire, and I spent most of Friday enjoying the talks. Zachary Klein's "Shields Up! Security and React Apps" covered techniques and concepts to clear up confusion around securing data in Single Page Applications.
The presentation covered local storage, routing, JWTs, and OAuth along with their implications on locking down an application. The hands-on examples were educational, and I encourage you to look at his presentation materials.
Lance Finney - So You're Doing Redux but is your Data Safe?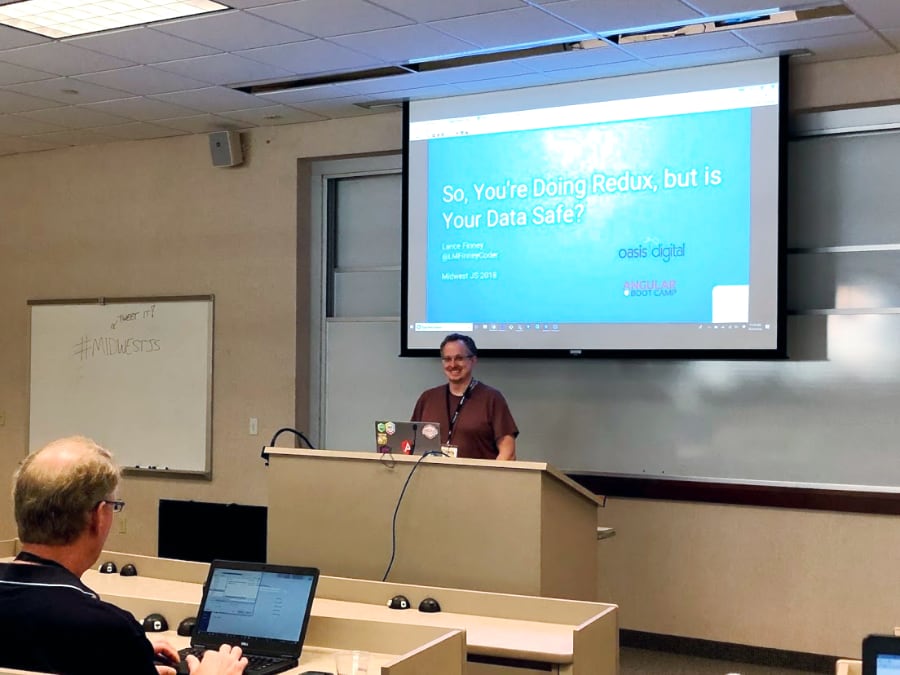 Lance Finny, a developer at Oasis Digital, gave a presentation that surprised me at first. With a title like "So you're doing Redux, but is your Data Safe?" I was expecting a talk on security related to React's Redux library. But Lance is an Angular developer, and his talk was about the redux pattern in general.
Lance gave a deep dive technical presentation with lots of valuable examples. He covered various techniques to achieve true immutable state. I love these kinds of talks but in small doses, because a whole conference with this level of technical details would leave your brain mushy.
I look forward to catching another presentation from Lance.
Wrapping Up
This was my first time both attending and speaking at Midwest JS. I found it a great regional conference packed full of quality presentations. I look forward to coming back next year and highly recommend you check it out as well.
I would like to give special thanks to Cory Tranby who helped arrange for my last minute travel and lodging as well as panicked troubleshooting of the WiFi connection just before my presentation. He, the staff and the conference itself were all top notch. I look forward to seeing them all again next year.